It's all about passion
Art and design has always been a part of my life. I surrounded myself with beautiful and unique pieces, but it never crossed my mind, or better put, I never allowed myself to think that I could create art. Design – yes. That's what I did the last 20 years. But art? Secretly, I sometimes imagined myself standing on a ladder with a large brush in my hand, painting on a 10 x 3 m canvas hanging in a huge studio. This inner image made me smile in many difficult situations of my life and encouraged me to continue. And yet it never occurred to me to put it into practice. 
At the end of 2016 an inner voice became so loud that I set out to buy 20 canvases, brushes and acrylic paint. I went home, tore the foil from the canvas and started. It felt so good. It just felt right. 
I have been painting ever since. Being creative, trying, pushing myself further and further and following my intuition. It makes me happy and I know that I can make a difference. At least in my world and hopefully also in the world of the people who are surrounded by my art.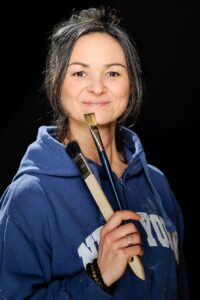 If you are interested what I'm doing as a designer – Feel free to check out my Insta @skarsky.design or my website design.skarsky.com.